Gingerbread House Kits
Wednesday September 9, 2020

-

Thursday November 5, 2020
Event Navigation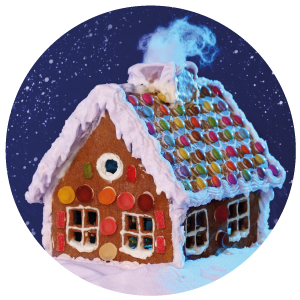 Further Details
Thank you to everyone who supported the gingerbread house fundraiser this year, although we couldn't host the event by coming together we are very grateful for everyone who supported by purchasing a take home kit.
Further Details
Build and decorate your very own gingerbead house in time for Christmas, a great fun family activity that everyone can enjoy.
In previous years we would have all come together for this event but this year, in light of the current pandemic, we cannot host the event this way and instead pre-purchased take home kits are available.
We are offering premium quality, dairy, egg and nut free all natural gingerbread kits.  The kits include a baseboard, gingerbread house parts, ready-made royal icing and lollies to decorate.
Kits on offer include original, chocolate and gluten free.
Price
$60 per kit
Order Information
Orders must be received by Thursday 5th  November 2020.
Kits will be available to collect from Giant Steps, Gladesville as of Monday 7th December.  Delivery may also be available within the local area upon request.
In review
Sub heading
Add additional info here
Sub heading
Add additional info here
Place Orders Here
Thank you for participating in this fundraiser, please select the kit you would like to purchase and click the "Add to Cart" button below. Once selected you will be able to adjust the quantity should you wish to purchase multiple kits.